Vacations in Puerto Escondido, Oaxaca are always filled with sun, sand, and adventures. But did you know that they can be filled with delectable cuisine, too? While you are enjoying my top 10 things to do in Puerto Escondido, you can enjoy plenty of places to eat in Puerto Escondido. And if you know where to go, you will find yourself dining in some of the best restaurants in Puerto Escondido. This list is updated regularly (last update: December 5, 2023).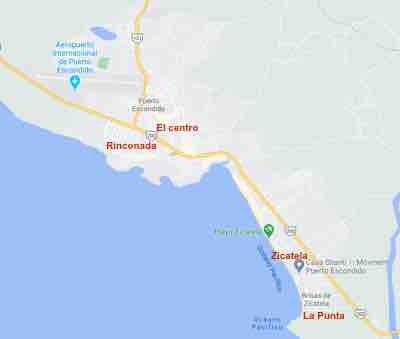 10 Great Restaurants in Puerto Escondido, Oaxaca
Restaurants in Rinconada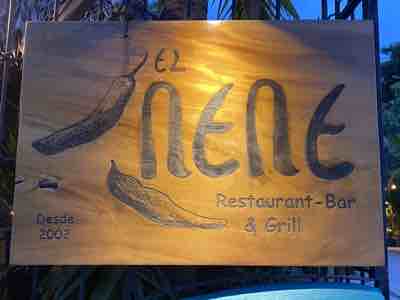 Google: 4.6 of 5 with 643 reviews – $$ International, Latin, Seafood – Map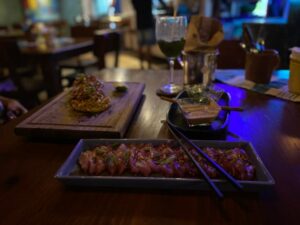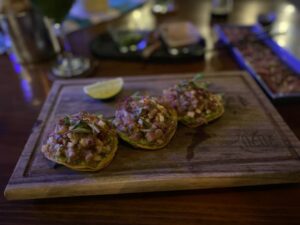 Pictured above: Sashimi Atún & tostadas atún
El Nene is best known for fresh seafood (or maybe just to me:). This restaurant in Puerto Escondido has great tuna sashimi and wonderfully prepared seared tuna. They also have burgers, Mexican sandwiches, and tacos. It's a great place for larger parties, and during high season you'll catch great live entertainment on the weekends. They have a pretty extensive menu, and the artisan chef, Arturo, masterfully makes each dish to perfection.
Want to use a credit card here? No problema. However, before you travel, check out the best credit cards for travel and get the best card for your situation.
Here are a list of beaches in Puerto Escondido 
Google: 4.7 of 5 with 415 reviews – $$ Mexican, Contemporary, Fusion – Map
Metxcalli serves some of the best Mexican food in all of Puerto Escondido. Their paellas are amazing, and they pair wonderfully with the cocktails on the menu. This is one of the best places to eat in Puerto Escondido. But the best times to eat there are Fridays and Saturdays. In the evenings on those days, they have live music. You can easily sit on the deck, listen to the music, and enjoy any of the food off the menu. 
Google: 4.6 of 5 with 286 reviews – $$ Latin, Bar, Mediterranean – Map
If you are searching for Argentinian food when vacationing in Puerto Escondido, you must check out Filomena. It is the best Argentinian restaurant in Puerto Escondido. You may find yourself dining there multiple times during your stay. Roasted chicken and quinoa burgers are quite popular at Filomena. It is the chimichurri dishes they serve that are ordered the most though. In my opinion, they also serve the best steak in town. I order their steak with chorizo topping. It's wonderful. Finally, if it's pasta you want, their meat lasagne is very good.
_______________________Advertisement________________
Hear what former NFL player says about Fat Burning Secret's 28 Day Challenge
Join our FREE 28 day workout challenge today.
______________________________________________________
Restaurants in El Centro
Google: 4.3 of 5 with 1,119 reviews – $ Mexican, Fast Food, BBQ – Map
Las Cazuelas is another Mexican restaurant in Puerto Escondido. It is one of the best places to eat pozole in Puerto Escondido. They also serve tacos, tostadas, sopes, quesadillas, tortas and so much more. This Puerto Escondido restaurant prepares the food when ordered, so you must not be in a rush. You can sit inside, but the outdoor and patio seating will allow you to do a little people watching while you are waiting.
La Punta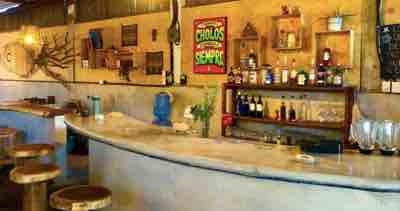 Google: 4.7 of 5 with 803 reviews – $ Peruvian, South American – Map
Chicama is a Peruvian and seafood restaurant in Puerto Escondido. All their dishes are prepared with fresh ingredients. While meat and seafood are always on the menu, Chicama also caters to vegetarians. Each one of Chicama's dishes are delicious, but it is the ceviche that always keeps the locals and tourists going back for more. 
Google: 4.5 of 5 with 152 reviews – $$ Oaxaqueño Mexican- Map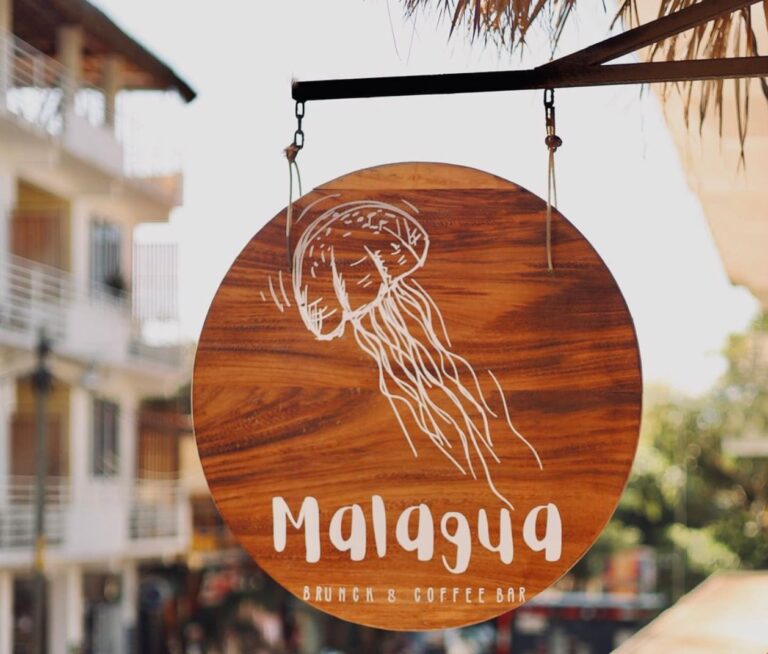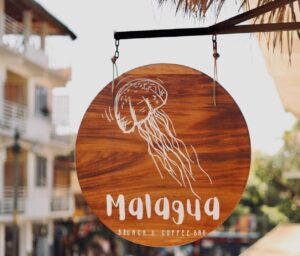 Malagua Café is a great breakfast, brunch and lunch spot in La Punta. They recently remodeled, and the vibe is fantastic. There's a coffee shop in front for to-go orders, with outdoor and covered seating in back. They also put in a cool co-working space featuring Starlink satellite Internet service. Foods range from breatkfast bowls to hamburgers to avocado toast. A must visit place for breakfast, brunch or just work and coffee.
When is the best time to visit Puerto Escondido Mexico?
Google: 4.8 of 5 with 157 reviews – $$ Coastal Mexican Oaxacaño – Map
While relatively new, Atarraya Bar and Restaurant has made a name for itself. The chef, Ricardo is no stranger to serving delicious food in Puerto Escondido and I throughly enjoyed his food before I found out he was now here. Read the Google Reviews for yourself. They will tell you the food, vibe and drinks are excellent. A must visit in La Punta.
Google: 4.7 of 5 with 264 reviews – $$ Cafe, Vegetarian Friendly, Vegan Options – Map
As you are searching for fabulous places to eat in Puerto Escondido, you may find yourself craving a little Italian cuisine. When that happens, simply head over to Alivo Italian Restaurant to indulge in a few of your favorites. You can choose from spaghetti ai frutti di mare, penne allo zafferano con gamberi, bruschetta with shrimp and pesto, and so much more. Add a margarita or cabernet sauvignon to your order, as well as a little tiramisu, and you will have a meal that is perfect for your vacation.
Are you familiar with silver from Taxco Mexico?
Restaurants in Playa Zicatela
Google: 4.4 of 5 with 816 reviews – $$ Mexican, Seafood, International – Map
The Hotel Santa Fe Restaurant is one of the many options in Puerto Escondido. They serve incredible Mexican food, but they also offer seafood and international dishes. You don't need to be a guest to venture over to this place to eat in Puerto Escondido. You can easily walk in and order anything off the menu and enjoy the beautiful view of Playa Zicatela. A few favorites of the locals include the fried calamari, red snapper, lasagna, and pasta with vegetables.
TripAdvisor: 4 of 5 with 237 reviews – $$-$$$ International – Map
The Beach Hotel Ines Restaurant serves breakfast, lunch, and dinner. It is best to experience each meal at this restaurant in Puerto Escondido, because the food is that good. The breakfast menu is filled with the regular breakfast items. Lunch and dinner bring tacos, sandwiches, fillet of beef, and many different types of fish. They offer a happy hour from six in the evening until eight in the evening every single day of the week. My favorite dish there is the filet mignon with pepper sauce. If you plan your visit for the months of January through March, you can experience their fantastic barbecues.
There's no better place in the world to travel with a purpose than Puerto Escondido. Enjoy the restaurants, the people and the beaches.
More to read:
Traveling, like other things, has become more expensive in recent days, and to offset these expenses consider travel hacking to save money.
VRBO vs AirBnb…can't decide?
Looking for hotels in Puerto Escondido? We have you covered.
While traveling, you might need an app for translations. Check out our article on DeepL Translate vs Google Translate.
Tripadvisor: no rating
One of the best vegan options in Puerto Escondido is going to be No Mames. They recently updated their menu, but that doesn't mean they don't still have all your favorite vegan choices. While No Mames is known for their vegan tacos, you won't be able to resist ordering their chili no carne cheese fries. One bite into the fries covered in vegan cheese and you won't be able to stop eating them!
Tripadvisor: no rating
While there is nothing better than heading out to your favorite vegan restaurant for a bite to eat, there are times when leaving home is simply not what you want to do. Thankfully, Chillicon Valley has you covered with their delivery services. Give them a call to order some of their delicious fettucine, chili con soya, or rice balls for your next meal. Oh, and don't forget to tell them you want a couple of their infamous brownie de chocolates for dessert.
Tripadvisor: no rating
The Chili Garden specializes in Indian, Malaysian, and Vietnamese vegan and vegetarian cuisine. Their menu is always changing, but that doesn't mean you won't find at least one favorite dish every time you decide to dine at the Chili Garden. Make sure you order a beer, wine, or mezcalita when you are placing your food order. All their drinks pair wonderfully with everything on the menu.
Tripadvisor: no rating
PapaTots is known for their papatots. They began with the classic recipe before removing all eggs, flour, and preservatives. Their current recipe for papatots uses potatoes, herbs, and spices. While these delectable bites are tasty on their own, you will want to try one of the many different condiments available. And if you are quite hungry when you arrive at this restaurant, you might want to try their vegan burritos too.
Tripadvisor: 5 of 5 with 27 reviews: $ Mexicana, latina, café
This is another coworking space that will allow you to get your work done while you dine on some fabulous vegan foods at the same time. The losodeli bowl is incredible, as are the chilaquiles costa. The coffee at Café Losodeli is amazing, but you may prefer to sip on one of their refreshing smoothies instead.
Tripadvisor: no rating
You will want to arrive at Cocofam hungry, because their vegetarian and vegan options are wonderful! Most diners will begin their meal with a Zicatela Breeze, which is made from cucumber, lemon, and chia. Tacos are available with either spinach or mushrooms and you can choose whether you want cheese placed on top. If pastries are more your thing when dining out, then the vegetarian cakes are your best option. Add spinach and mushrooms to them to really bring out the flavors. You can also get a chocolate pastry with strawberries and that menu item is both sugar and gluten free.
Tripadvisor: 4.5 of 5 with 358 reviews: $ Lebanese, Mediterranean
Everyone goes to El Sultan to dine, because they have the best falafel wraps in Puerto Escondido. They also have the best hummus, which they make using only the freshest ingredients. When you arrive at El Sultan, you will want to look for their house special. This will ensure you do not miss out on a special falafel wrap when you are choosing your meal.
Tripadvisor: 4.5 of 5 with 141 reviews: $ Mexicana, café
or more than twenty years now, Dan's Café Deluxe has been the place to go in the morning when you want a cup of strong coffee in Puerto Escondido. My favorite is the fruit and vegetable smoothies. They are so refreshing when it is hot outside! Later in the day, an ice-cold beer is a must when paired with their vegetarian stir fry.
Tripadvisor: 4.5 of 5 with 168 reviews: $-$$ Mexicana, International
The outside terraces are where all the action is at Sativa Puerto. The terrace is directly on the beach, so you can easily sit in the sun as you enjoy time with family and friends. The menu is filled with multiple vegetarian and vegan options. Many people begin with the falafel plate and follow up with the tacos de camarón. Make sure you order a margarita, beer, or vitamine sea drink to enjoy while you are waiting for your meal.
Tripadvisor: 4 of 5 with 17 reviews: $ Caribeña, Asiática, Tailandesa
Wok-xaca Thai Restaurant is right on Zicatela Beach, so you can dine in style while the waves roll in. There are many vegetarian options on their menu and each one is filled with the Thai flavorings you love.
Tripadvisor: 5 of 5 with 173reviews: $ café
Mornings are best spent sipping coffee and enjoying one of the many vegetarian breakfast options at La Espiral. This charming café makes all their dishes using organic ingredients. The best part about this vegan option in Puerto Escondido is you will really start to feel connected to the community. You can meet up with friends during your visit or attend one of the numerous events and workshops held there throughout the year.
Tripadvisor: no rating
Señor Salud is more than a vegan restaurant in Puerto Escondido. It is also a store that sells vegetables, fruits, and other organic foods. They offer both a salad and bread of the day, so keep an open mind when you go in and place your order.