Taxco (pronounced Tasco), Mexico is an extraordinary destination that many people visit for the attractions and adventures available. However, most people visit this part of the world for the Mexican silver jewelry that can be found there. Taxco jewelry, also known as Taxco silver, is quite popular and it is loved, and worn, by thousands of people around the world.
Taxco – home of Mexican silver jewelry
The town of Taxco Mexico is considered the oldest mining area on the continent and was founded back in 1529. However, it the silver deposits were not discovered there until almost two hundred years later. It was at that time when José de la Borda found the silver and made a fortune from all the silver mines.
It wasn't until 1929 that silver jewelry workshops were opened in the town of Taxco to sell the Mexican silver jewelry. That was the start of the Taxco jewelry phenomenon and it has grown so much that the area is now known as the Silver Capital of the World.
There is quite the selection of Taxco silver for sale in this town. While some of the Taxco jewelry is considered of high-quality, other pieces of the Mexican silver jewelry is mass-produced and cheap. If you are looking for Taxco silver that will last you forever, you must make sure the silver is marked with a stamp that contains the numbers 925.
This number shows that the silver jewelry you are considering purchasing is truly sterling silver. Anything with that stamp is comprised of 92.5 percent silver and 7.5 percent copper. Those materials ensure durability and you will know the piece you fell in love with will last you a long time.
A piece of Mexican silver jewelry is rarely made with 95 percent silver, but when it does happen, those pieces are marked with a stamp that contains the numbers 950.
Most of the Taxco silver jewelry shops in town sell their jewelry by the weight. There is usually a variable rate, but that is dependent on the quality of the work, as well as the individual merchant.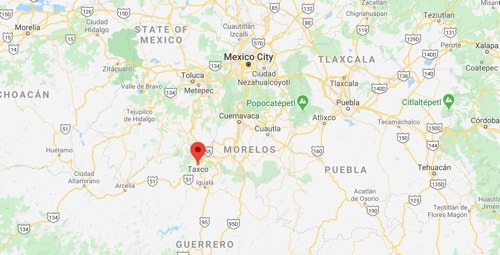 Two Types of Taxco Silver Jewelry
There are two types of Taxco silver jewelry and they are cultural jewelry and art jewelry. All the cultural pieces you find will include geometric shapes from pre-Colombian times, religion, nature, animals, and nature. Think of Taxco silver shaped to look like flowers, sombreros, masks, jaguars, and hearts. Most of the cultural silver jewelry will incorporate semi-precious stones, but the most popular stones are coral and turquoise.
The art jewelry offers more personal tastes, but they still carry the usual motifs of the cultural jewelry. However, the vision of each individual artist shines through in the silver art jewelry and it looks like fine jewelry that can be part of a collection.
---

---
Creating Taxco Jewelry
The creation of all the Taxco jewelry pieces has evolved over time. It is common for the artisans to use software and 3D printing to create the Taxco silver nowadays. This is completely different from the molds that were created and used in the past.
Some of the artisans making this Mexican silver jewelry have been doing it for decades, while others have not been there for as long. The more experienced artisans are helping the newer artisans hone their skills, so the Taxco silver jewelry can continue to be made for many generations in the future.
---
Here are some other of our posts you may like:
Top 10 things to do in Puerto Escondido, Oaxaca, Mexico
Ancient and mystic Xalapa, Mexico
Top things to do and see in Zacatecas, Mexico
---
Where to Purchase Taxco Silver Jewelry
Visiting the town of Taxco in Mexico is the easiest way to purchase Taxco silver. The Saturday market is an excellent place to find some bargain Taxco silver and lower-end silverware. I do recommend you check out the quality using the stamped numbers I mentioned above. This will ensure you know exactly what you are purchasing and avoid disappointment in the future.
You can also go to the many different Taxco jewelry stores around town. If you want to learn more about Taxco jewelry before you make a purchase, you may want to begin at Spratling Workshop. This is not a store where you can purchase a piece of jewelry and walk out wearing it. The display cases only hold sample Mexican silver jewelry pieces. You can order anything you fall in love with though and it will be shipped to your home.
If you cannot visit Taxco, you can easily go online and find the perfect piece of Taxco silver. You can place your order and your Taxco jewelry will be shipped directly to you. This is also excellent news if you are still loving your locally purchased Taxco jewelry and you want to continue to add new pieces before you can make a return trip.
---

Can't make it to Taxco to buy Mexican silver jewelry? Shop the online authority on Taxco silver Jewelry at Corazón Sterling Silver from Taxco.
---
Taxco National Silver Fair
If you do plan to visit Taxco, I recommend going when the Taxco National Silver Fair is taking place. This event is held towards the end of November each year. It is two weeks long and there will be so much for you to do there during that time.
You must begin with the street stalls for a little shopping. However, make sure you take the time to listen and watch the live entertainment and peruse the art exhibits. There is also a silverwork and sculpture competition you must watch, as it will allow you to learn a lot about Mexican silver jewelry.
Mexican silver jewelry has grown in popularity over the years, so do not feel as if you are alone when you fall in love with the first piece of Taxco silver you purchase. The good news is you do not need to travel all the way back to Taxco, Mexico when you want to add more Taxco jewelry to your collection. However, since there is so much to do in this town and you can meet quite a few artisans during your visit, traveling to Taxco at least once is going to be your best option.