Beach vacations are normally at the top of travel bucket lists for many people. While you may love hiking nearby mountains or spending time in major cities, there is just something spectacular about relaxing on sandy shorelines. A vacation in gorgeous Oaxaca will have you spending time on some of the best beaches in Puerto Escondido. A few of those beaches are excellent for swimming. Others are amazing for sunbathing. But you may want to check out the ones that are wonderful for the Puerto Escondido surf for your visit.
Here is a list of things to do in Puerto Escondido.
Beaches in Puerto Escondido
Playa Carrizalillo
Swimming is a popular activity at Playa Carrizalillo. The reason for this is the waves are not that big. Those waves make this beach perfect for Puerto Escondido surf beginners. You can take surfing lessons at Playa Carrizalillo and even rent surfboards there. You will find this beach tucked away near La Rinconada. There are more than one hundred fifty steps that lead down to the shoreline of this beach. Therefore, be prepared for a little exercise before you even hit the water.
La Punta
La Punta is the home of the Puerto Surf School. You can easily take surfing lessons if you are a beginner. The left-hander pointbreak is perfect for intermediate surfers. When you get tired of sitting in the sun, and need a little time in the shade, walk down to the southern end of this beach. You will find plenty of rocks to sit on there, while you relax and watch the surfers out in the water.
Playa la Barra
Not all the best beaches in Puerto Escondido are good for surfing. But that doesn't mean you need to shy away from them. Playa la Barra offers the tranquility you may desire on one day of your vacation. It can be difficult to get to this secluded beach. But once you are there, you may discover you are all alone. There is a lighthouse nearby this beach, as well as a few small coves that are waiting to be discovered.
Here are a list of 10 great restaurants in Puerto Escondido
Playa Manzanillo
Lazy days are best spent at Playa Manzanillo. When you are not relaxing on the sand at this best beach in Puerto Escondido, you will find yourself snorkeling amongst the marine life. The best snorkeling spot is down by the rocks at the south end of this beach.
Playa Zicatela
The Puerto Escondido surf doesn't get any better than it is at Playa Zicatela. This is one of the best beaches in Puerto Escondido for surfing. Pro surfers arrive daily to ride the Mexican Pipeline, which is a heavy beach break. Unless you are a pro surfer, you shouldn't tackle this Puerto Escondido surf. But you can easily watch the surfers for hours before heading to one of the bars or nightclubs.
Playa Marinero
Playa Marinero is right next to Playa Principal. If you are looking for a Puerto Escondido surf beach option, Playa Marinero will check off some of the boxes. This is a body surfing beach. You can rent boogie boards if you didn't bring one from home. You must wander around the rock formations during your visit, because there are numerous picture-taking opportunities.
Playa Principal
The location of Playa Principal makes it one of the best beaches in Puerto Escondido. The sparkling water is only steps away from the local shops and restaurants. The beach is only steps from the OCC bus station too. Therefore, you may find yourself on this beach before any of the others. You can visit this beach at any time of the year. However, the month of December brings the excitement from the Blessing of the Fishes boat procession.
Here's a list of 8 unique places to stay in Puerto Escondido
Playa Bacocho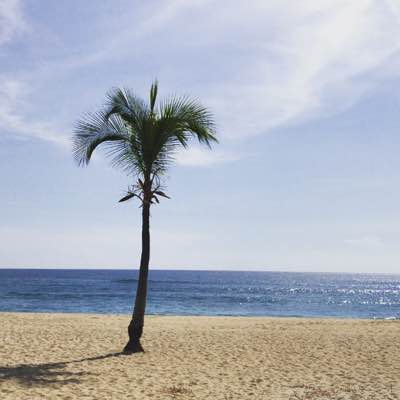 It is all about romance and long strolls on the sand at Playa Bacocho. The sandy shoreline extends twenty-five kilometers. This means you must arrive early in the morning if you want to walk most of it. While you can swim at this beach, you may prefer the swimming pool at the Villa Sol Beach Club. The swim up bar there is perfect for when you need a drink. The best thing to do at this beach though is watching the sea turtle nests or a turtle release.
When is the best time to visit Puerto Escondido Mexico?
Interested in Oaxaca history?
Playa Coral
Playa Coral is considered a hidden beach in Puerto Escondido. Not too many people know about this best beach in Puerto Escondido. That means you may find yourself amongst only a few locals during your visit. You will find this beach near Playa Bacocho. The path leading to the beach is steep, so you will want to wear the proper footwear. This is not the best Puerto Escondido surf beach due to the strong undertow. It is also a good idea to take drinks and food with you, because restaurants are lacking in the area.
These are the best beaches in Puerto Escondido. Each beach offers something amazing. Not every beach offers the Puerto Escondido surf though. So, you will want to choose each beach you go to according to what you want to do each day you are visiting.
---
Back to Puerto Escondido: The Ultimate Guide