Are you craving a diverse and enriching travel experience? South Africa is calling, and there is an incredible variety of scenery, people, and wildlife to be discovered. Whether you're interested in exploring the wilds of Kruger National Park or sipping wine in the Cape Winelands, this magnificent country has something for you. South Africa attracts with a variety of travel ideas, each offering an own blend of natural beauty, cultural depth, and adventure. Let's hit the road and see all that South Africa has to offer tourists.
Above: Knysna – Western Cape
Kruger National Park
Famous for its abundance of Big Five animals (lions, elephants, buffalo, leopards, and rhinos), this safari destination is a paradise for nature lovers. As you traverse the vast landscapes, your senses will be heightened by the sounds of the African bush and the sight of majestic animals in their natural habitat. For the ultimate safari experience, consider staying at one of the park's luxurious lodges, where you can indulge in world-class amenities while surrounded by the beauty of the African wilderness. Whether you choose a guided game drive or a self-drive safari, Kruger National Park promises an unforgettable encounter with nature.
Graskop, Mpumalanga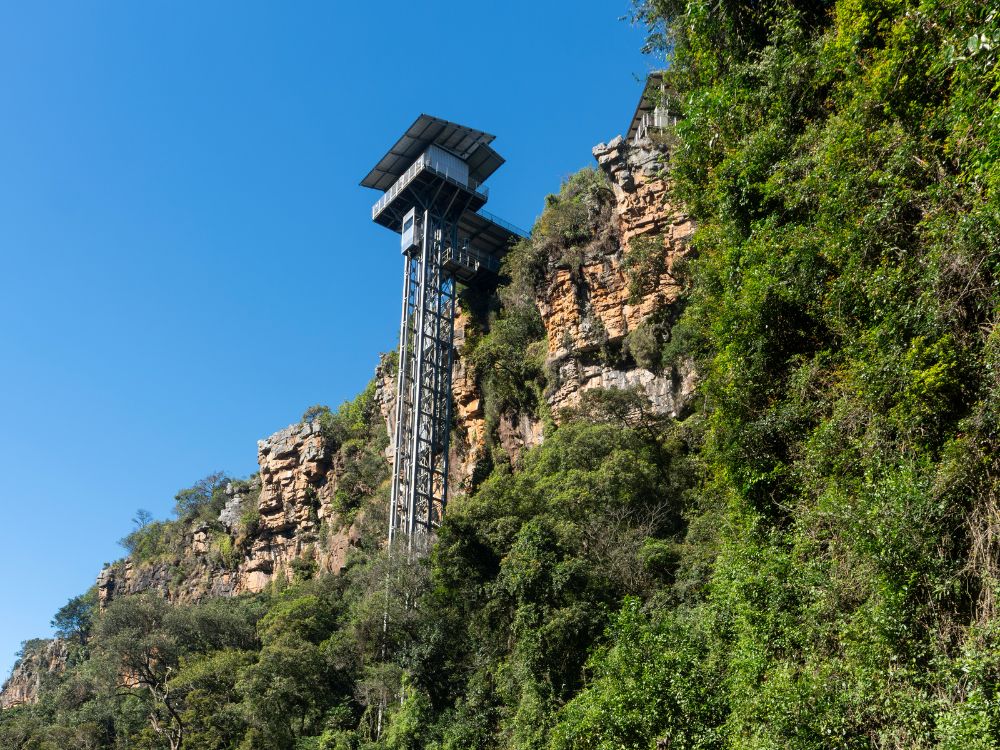 Above: Graskop Lift – Mpumalanga
A short drive from Kruger National Park, Graskop is a hidden gem nestled along the iconic Panorama Route. Known for its amazing views and waterfalls, Graskop is a must-visit destination for those seeking natural beauty. The Graskop Gorge Lift allows you to descend into the lush forest, providing a unique perspective of the landscape. While in Graskop, be sure to explore the Pinnacle Rock and God's Window for views that stretch as far as the eye can see. These geological wonders offer the perfect backdrop for your travel ideas, with every vantage point delivering a postcard-worthy scene.
Cape Town, Western Cape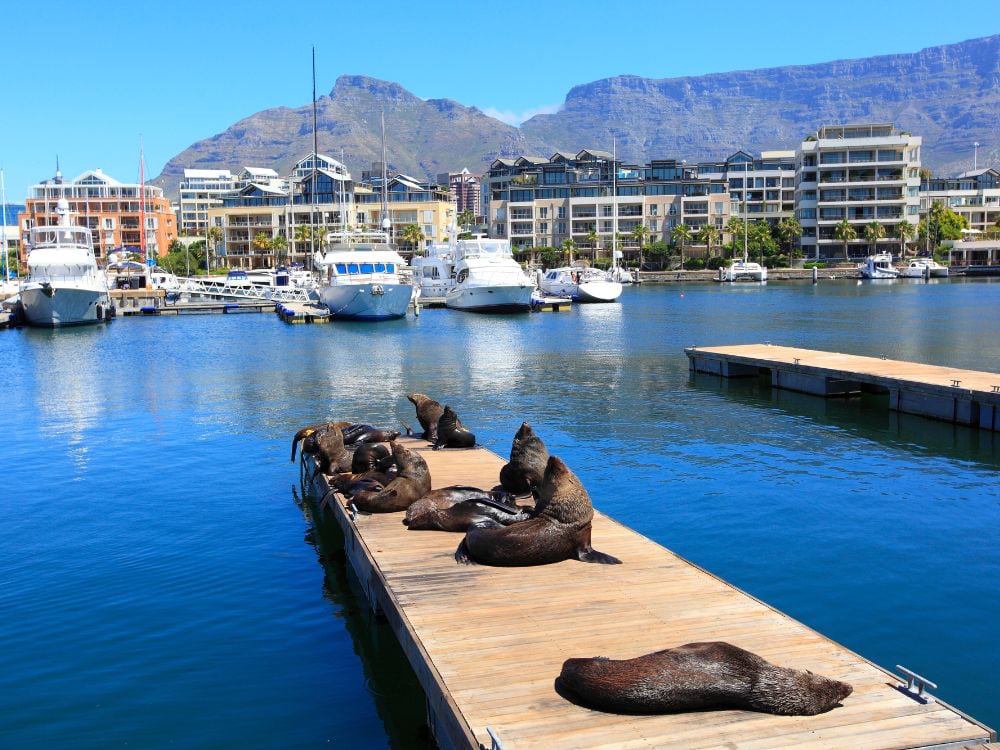 Above: Cape Town's Hout Bay
Travel south to the cosmopolitan city of Cape Town, where the convergence of history and modernity creates an unparalleled atmosphere. The iconic Table Mountain dominates the skyline, inviting you to explore its heights for a breathtaking view of the city and the surrounding ocean. As you stroll through the historic streets of the Bo-Kaap neighborhood, you'll be captivated by the vibrant colors and rich cultural heritage. For an immersive experience, take the cable car to the top of Table Mountain or embark on a ferry ride to Robben Island, where Nelson Mandela was once imprisoned. Hout Bay, a coastal suburb located approximately 20 kilometers south of Cape Town's city center, is a gem known for its scenic beauty and vibrant atmosphere. One of its main attractions is the Hout Bay Harbour, featuring a fish market, shops, and restaurants. Visitors can take boat trips to Seal Island, or enjoy a leisurely stroll along the waterfront. 
Cape Winelands, Western Cape
Just a short drive from Cape Town, the Cape Winelands beckon with their rolling vineyards and award-winning wines. This region, encompassing Stellenbosch, Franschhoek, and Paarl, is a paradise for wine enthusiasts and food lovers alike. Indulge in wine tastings at world-renowned estates, where you can savor the flavors of South Africa's finest wines. As you explore the charming villages of the Cape Winelands, you'll encounter a blend of Dutch and French architectural influences, adding a touch of old-world charm to the picturesque landscapes. Consider a hot air balloon ride for a bird's eye view of the vineyards, creating lasting memories of this enchanting region.
Knysna, Garden Route
Venture along the scenic Garden Route to the coastal town of Knysna, where forests meet the waters of the Indian Ocean. This idyllic destination is famed for the Knysna Heads – towering cliffs guarding the entrance to the lagoon – and the waterfront, lined with boutique shops and seafood restaurants. For the more adventurous traveler, a hike or boat trip to Featherbed Nature Reserve is a travel idea that promises panoramic views of the estuary and the surrounding landscapes. Knysna offers a perfect blend of relaxation and exploration, making it a versatile destination for all types of travelers.
Plettenberg Bay, Garden Route
A short drive from Knysna, Plettenberg Bay welcomes you with pristine beaches, turquoise waters, and a laid-back atmosphere. Whether you're seeking sun-soaked relaxation or thrilling water activities, Plettenberg Bay has it all. The Robberg Nature Reserve offers hiking trails with stunning views of the coastline, while the beaches provide a perfect setting for sunbathing or water sports. Dolphin and whale watching tours are popular in the area, offering a chance to witness these majestic creatures in their natural habitat. Plettenberg Bay is a haven for beach lovers, nature enthusiasts, and those looking to unwind amidst the beauty of the South African coast.
Namaqualand
For a unique and vibrant experience, head north to Namaqualand, especially during the spring months. This arid region undergoes a stunning transformation as wildflowers blanket the landscape in a riot of colors. The Namaqualand Flower Route offers a picturesque journey through fields of daisies, lilies, and succulents, creating a surreal and breathtaking vista. This lesser-known gem is a paradise for photographers, nature lovers, and anyone seeking the magic of the natural world. The ephemeral beauty of the Namaqualand flowers is a testament to the resilience and adaptability of life in the seemingly harshest environments.
Drakensberg Mountains
This UNESCO World Heritage Site boasts breathtaking landscapes, including dramatic cliffs, lush valleys, and cascading waterfalls. Hiking enthusiasts will be in their element with a myriad of trails catering to all skill levels. The Amphitheatre, a colossal rock wall, is a prominent feature of the Drakensberg, offering a challenging yet rewarding hike. For a more leisurely experience, explore the Giant's Castle area, known for its ancient San rock art and stunning vistas. The Drakensberg Mountains provide an ideal retreat for those seeking tranquility, adventure, and a closer connection to nature.