Ladakh is a beautiful state in the north of India, very close to Tibet and Pakistan. It is well known for its great landscapes and its Buddhist culture. Ladakh attracts visitors from all over the world. While the main tourist season is during the summer months when the weather is pleasant and the roads are open, there are many good reasons to explore Ladakh in the winter too…
Earlier this year, I had the opportunity to travel to Ladakh during winter, and I was really amazed by the charm of this place. In this article, I am going to share share my experience and insights from my trip and offer tips that could be useful if you are also considering to visit Ladakh in winter.
Ladakh in winter
Yes, it's true, the winter in Ladakh is very cold and one has to be prepared for freezing temperatures. However, the winter in Ladakh offers an unforgettable experience that is hard to replicate at any other time of year. One of the main advantages of visiting Ladakh in the winter is that there are almost no tourists at all. During the peak tourist season, Ladakh can be quite crowded with domestic and foreign visitors, making it more difficult to appreciate the natural beauty and the Buddhist heritage of the region. In the winter, you can enjoy a more authentic experience and have the place almost all for yourself!
In the winter, Ladakh is covered with snow and the landscapes look really special. The snow-covered mountains, the frozen rivers, and icy lakes where people do ice-skate… All this creates a unique scenery and atmosphere.
Main places to visit in winter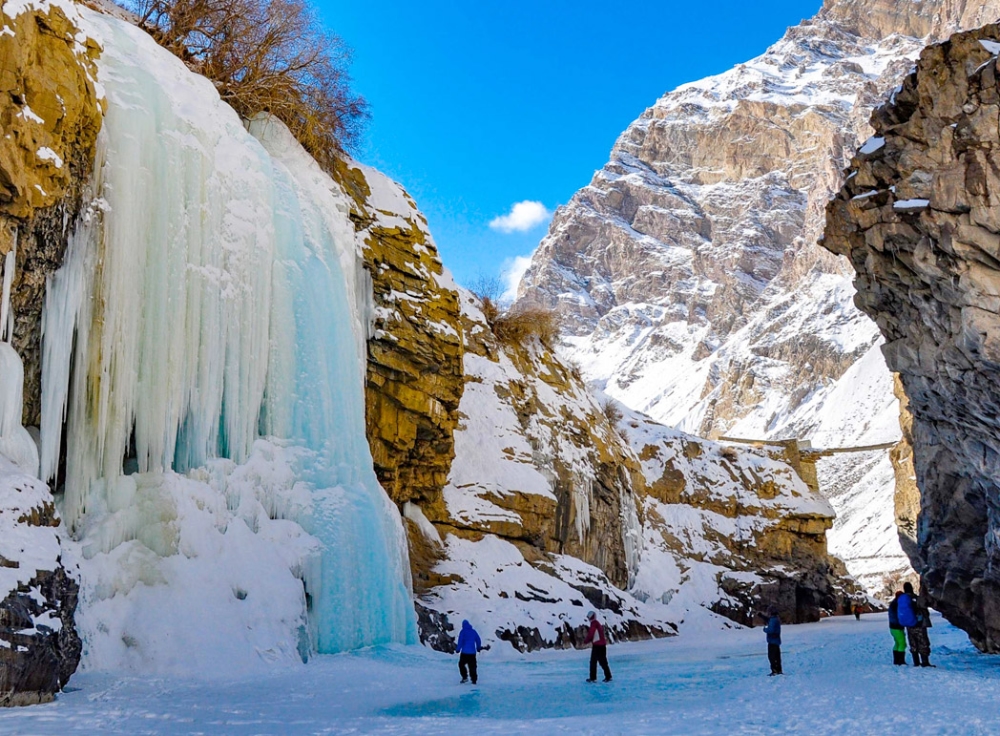 While a few places in Ladakh are not accessible during the winter, most of the places to visit can be included in a tour package in Ladakh during winter. One of the main destinations is Leh, the main town and capital of Ladakh, which also serves as the gateway to the region. Leh and the surrounding Indus valley has many beautiful monasteries such as Hemis, Stakna and Thiksey monasteries.
Another must-see attraction in Ladakh is the Pangong lake, which is located at the border between India and Tibet. In winter, when it freezes, the lake creates a magical landscape that I will never forget.
If you are looking for adventure, you could also go for trekking in Ladakh during the winter. I didn't get the time to try it this time, but it's still on my list! The Chadar Trek, which involves walking on the frozen Zanskar River, is one of the famous treks in Ladakh in winter that offers a very challenging experience.
Cold and the snow
If you're planning a winter trip to Ladakh you will need to be ready for very cold weather. Temperatures can go down to -10 degrees in January-February. Fortunately, it's often sunny so during the day it feels less cold. To stay warm, you'll need to pack plenty of warm clothes (thermal layers, down jackets, hats, gloves, boots…). A good sleeping bag is also very useful if you stay in remote places where you won't find hotel with heating system. But don't be scared by the cold! Ladakh in winter is truly magical and that's something I encourage everyone to experience at least once.
While in India, you should also visit the state of Rajasthan and check out our 7-day itinerary.