The soft sandy beaches and gorgeous sunsets of Puerto Escondido are waiting for you during your next vacation. While you will find yourself spending your days out exploring and relaxing in the sand, you will still need accommodations to return to at the end of the day. There are quite a few accommodations to choose from when you are vacationing in Puerto Escondido. However, a Puerto Escondido hostel is often your best choice, and I am sharing the top five.
Top 5 Hostels in Puerto Escondido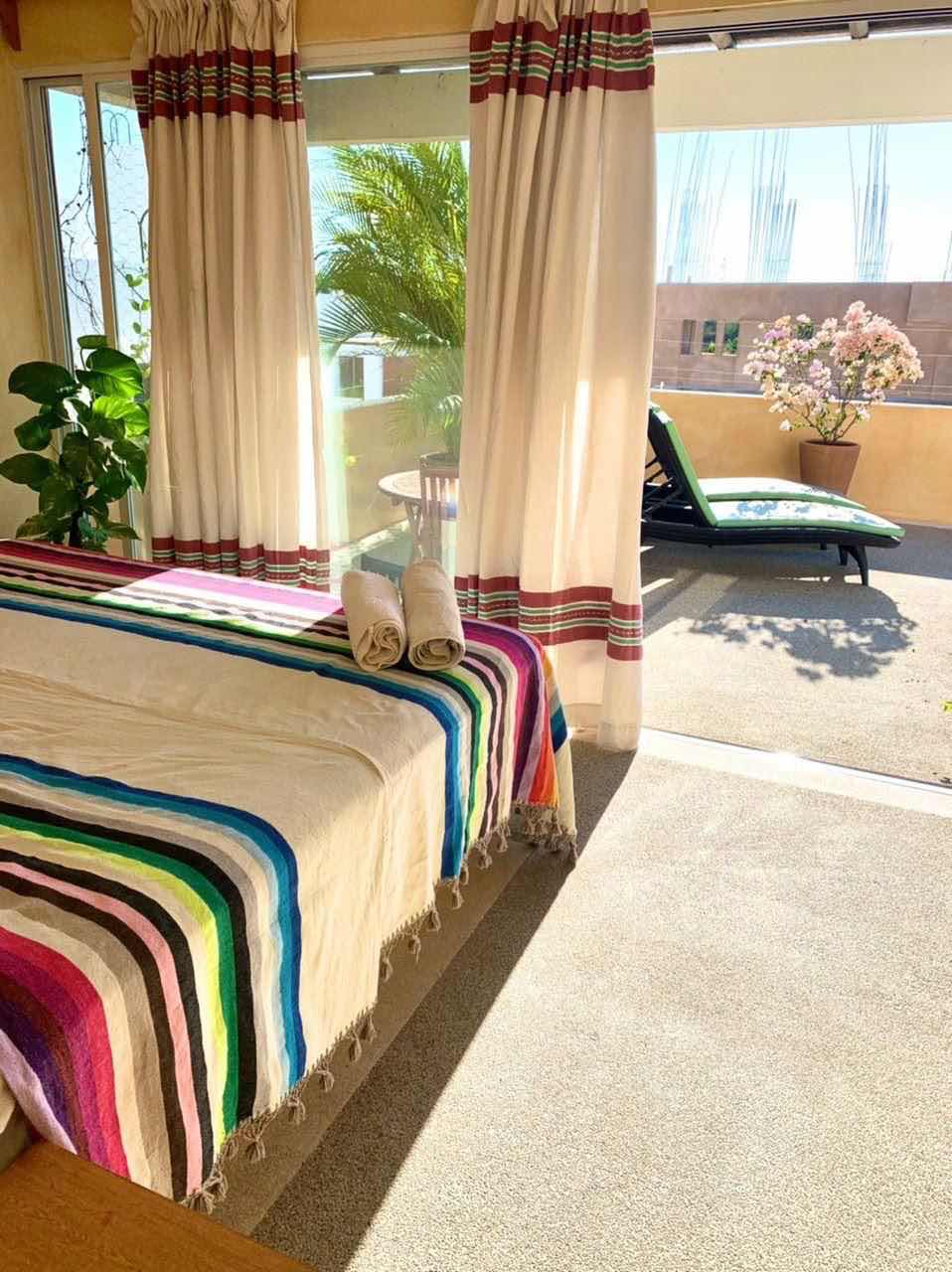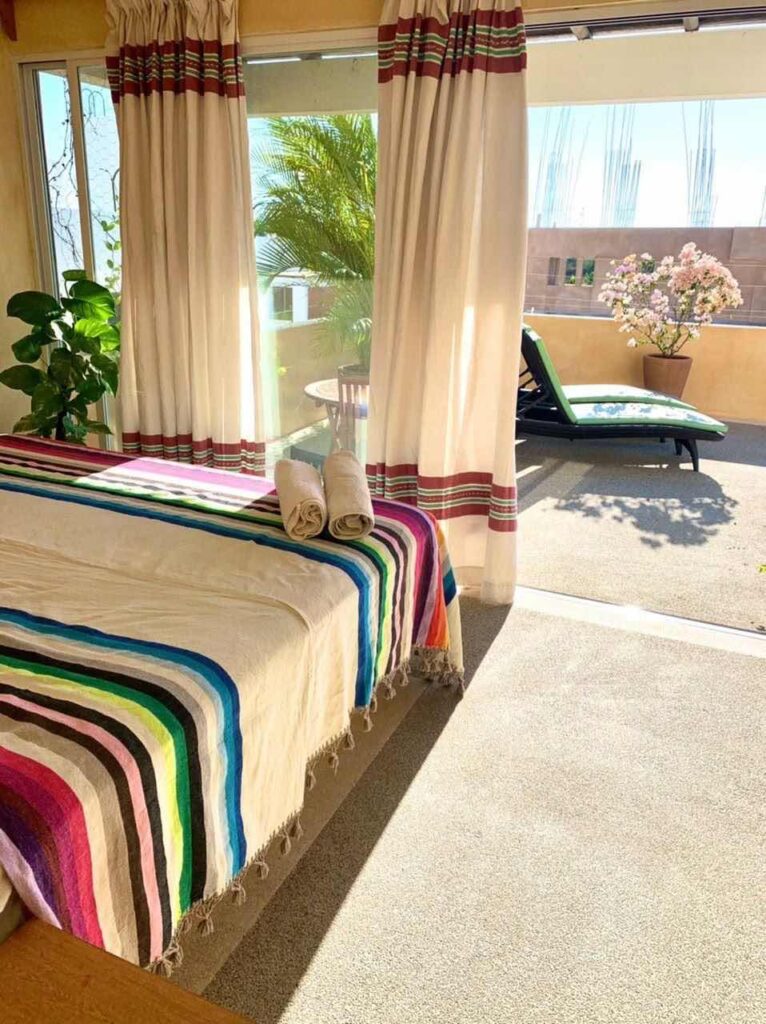 You won't find yourself skimping on luxury accommodations when you choose Bonobo Hostel Puerto Escondido hostel as your choice of places to stay. This luxurious home contains six private rooms and each one has their own private bathroom. During lazy afternoons, you can relax on the terrace while looking out towards the ocean. Although, don't be surprised if you are tempted to participate in a yoga class or other activity that is taking place on the terrace during your visit.
Time at this Puerto Escondido hostel can also be spent down by the pool or up at the rooftop bar. La Punta ZIcatela is only a short ten-minute walk from the hostel, while La Barra beach is five minutes away. Mealtimes are simple with the fully equipped kitchen, but you can also have your food delivered.

Another of our popular posts you may like are 8 unique places to stay in Puerto Escondido.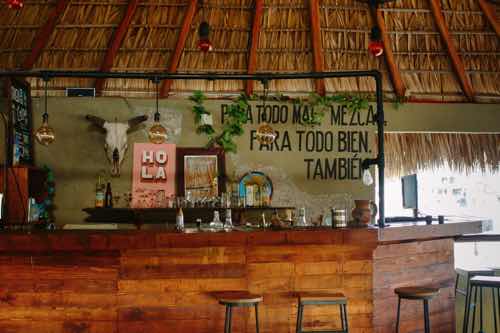 Puerto Dreams is an excellent Puerto Escondido hostel option if you are looking for socialization during your stay. This is more than just a hostel for travelers. It is also a coworking space for those who are looking to work while creating a new home in paradise. There are many different rooms available at Puerto Dreams. While they each have their own private bathroom, you may prefer the twin or standard rooms over the studio dorms due to their larger size.
When you are not out surfing or exploring Puerto Escondido, you will find yourself at the Tranquilo Bar at Puerto Dreams. A DJ plays music at certain times throughout the week at the bar and it is an excellent place to meet new friends. The Puerto Dreams Cafeteria is perfect when you need a cup of coffee, whether in the middle of the day or early in the morning
Looking for great dining while in Puerto Escondido? Check out our post on the Top 10 restaurants Puerto Escondido.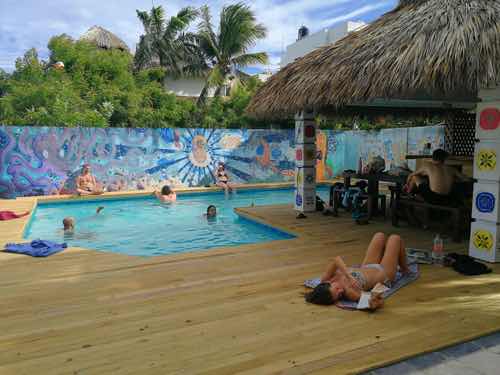 Vivo Escondido is a cozy hostel located right on the sandy beaches of Puerto Escondido. The villa offers both dorm rooms and private rooms, so you can choose the room that fits your vacation needs. When you are not in your room, you may find yourself in the hostel's large open areas or out on the roof terrace. The best surfing can be found at Playa Carrizalillo, which is only a five-minute walk from this hostel. If you do not want to surf, you will be happy to know the area's best swimming beaches are also within walking distance.
The fully equipped kitchen at Vivo Escondido makes mealtimes a breeze, which is good since you won't want to spend too much time cooking. After all, you will be too busy swimming in the ocean, playing table tennis, practicing yoga, and relaxing in the hammocks. There are many local restaurants near this hostel in Puerto Escondido too, so you can always find the foods you are craving at the end of a busy day without needing to cook.
---

---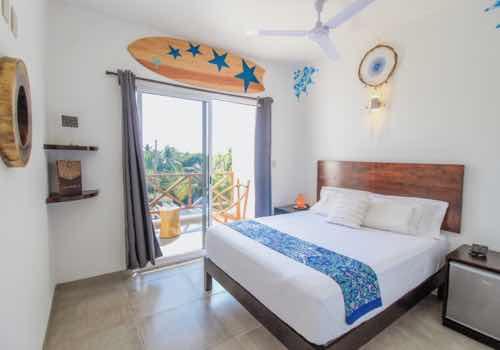 Casa de Olas is a Puerto Escondido hostel or boutique hotel that sits on a hill overlooking the sparkling ocean. The rooms at this hostel are all different sizes, so you are sure to find one that matches your vacation needs perfectly. Certain rooms offer kitchenettes and balconies, so I recommend choosing carefully. When you wake up each morning, you will be greeted with a complimentary tropical breakfast at the Breaky Bar.
As you are planning your activities for each day, you will want to consider spending time at the pool, tennis court, hammaca and library lounge, yoga terraza, and rooftop bar. I recommend being up at the rooftop bar when live acoustic musical performances are happening, because the vibe changes in this space instantly. One of the best features of this hostel is they partner with Surf Travel Friends to get you surfing like a pro in no time at all.
Looking for something to do while in Puerto Escondido? See 10 things to do in Puerto Escondido as well as know the best time to visit Puerto Escondido Mexico.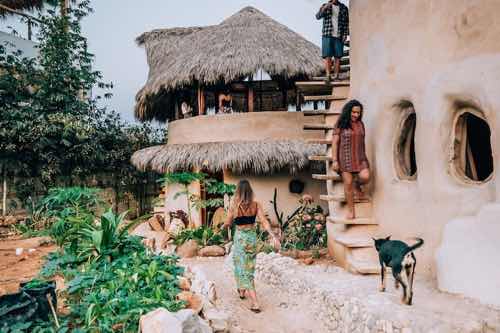 One of the more unique hostels which bills as a bed and breakfast in Puerto Escondido is Barbarenas. The hostel is actually multiple bungalows constructed from locally sourced materials. Each bungalow offers stunning views of the Pacific Ocean. When you are not in your spacious room, you will find yourself in one of the many open spaces at this hostel. I don't recommend spending too much time in those spaces though, because there is so much to do throughout Puerto Escondido. And at the end of the day, you can swim in the pool until you are tired enough to retreat to your room.
The shared kitchen at this hostel has a clay pizza oven, which is perfect when you want to make a few pizzas to share with new friends. While you can go shopping and bring your food back to store in this kitchen, there is a garden you can grab fresh produce from as well.
These are the top five hostels in Puerto Escondido. Each one of these hostels offers something unique, so you will want to choose the one you stay at carefully. After all, choosing the perfect Puerto Escondido hostel for you will instantly make your vacation better than ever!