Indigenous culture is everywhere within Oaxaca. It is that culture that creates a magical feel for both locals and travelers. If you have never traveled to Oaxaca, you may be wondering what makes this area so intriguing. To understand, you must be introduced to Oaxacan culture, as well as Oaxaca history. And you must know exactly what is Oaxaca known for.
Oaxaca History
Back between 1500 and 500 BCE, Oaxaca was much different than it is today. During those times, Oaxaca City was the largest settlement within this region. It was a Zapotecan city of San José Mogote. There were sixteen different cultures in that city, and they all had their own languages. Each culture also had their own traditions and customs. 
Some of those cultural groups were quite small and insignificant. However, the Zapotecs and Mixtecs were the larger groups, as well as the most sophisticated. The Zapotecans were very skilled in excavation and astronomy. They used those skills to level the top of a mountain around 450 BCE. Once the mountain was leveled, they created what is now known as Monte Albán. Approximately 18,000 Zapotecans lived within Monte Albán.
The Zapotecans also used their skills to construct the oldest defensive barrier, as well as ceremonial buildings in San José Mogote. This was also the very first culture to utilize adobe, architectural terracing, and hieroglyphics.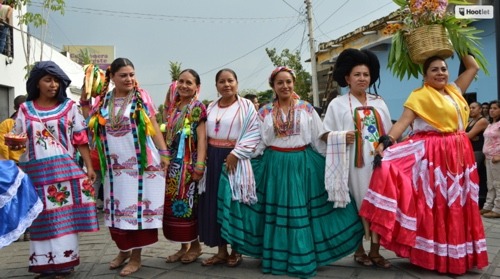 It was during the end of the 7th century where the Mixtecas began to move further into Oaxaca. They created the cities of Tilantongo and Apoala. By the 13th century, the Mixtecas conquered the Zapotecans and took over the area.
Oaxaca would change hands again with the arrival of the Aztecs. However, their presence did not change much of this city. In fact, Oaxaca history did not change until Hernán Cortés chose to conquer Mexico for Spain. It took him two years to overthrow the Aztecs and claim the region. Cortés was eventually given the title of Marqués del Valle de Oaxaca by the Emperor of Spain.
Over the next 300 years, Spaniards filled all the higher positions in Oaxaca. The locals didn't like this part of Oaxaca history, which is why they were first in line when the movement to free Mexico began. Those Oaxacans who were hesitant for any more change, were encouraged by Bishop Antonio Barbosa Jordan to join in the fight. And the rest is what formed Oaxaca as we know it today.
---

---
During the 19th century, Oaxaca had an Indian president, Benito Juárez. Porfirio Díaz was another prominent figure during the 19th century in Oaxaca history. He ran for president multiple times before finally taking over the office in 1877.
Oaxaca Culture Today
Oaxacan culture has come a long way since those days BCE. However, the original sixteen cultures all had a role to play in what Oaxaca is known for and much of the Oaxaca history. This area was designated as the Cultural Patrimony of the Humanity back in 1987 by UNESCO. It received this designation because of all the architectural and artistic treasures located there.
While Oaxaca culture can be found amongst all the people living there, you will also discover it as you wander the streets. All the main streets are filled with religious temples and museums. Each one of those buildings contains religious art. Over in the Zócalo, or the Plaza de la Constitución, you will find old buildings, the Cathedral, and the Museum of the Oaxaqueños Painters.
Other areas where you will see Oaxacan culture are through dances like La Zandunga and La Pluma. Those dances can be done at any time, but you will see them the most at weddings, changing of civil authorities, and celebrations of patron saints. One of the more prominent festivals in Oaxaca is considered the parties of the dead. However, Monday on the Hill, or Guelaguetza, is the festival that truly celebrates Oaxacan culture. This event is held on the last two Mondays in July.
What is Oaxaca Known for?
Many people think Oaxaca is known for its culture and artisanal goods. Some of the artisanal goods you will discover when you are vacationing in Oaxaca includes leather goods, baskets, pottery, and wood carvings. Add those to the folk art, textiles, and goldsmithing and you have an area almost everyone will love.
The thing is the Oaxacan culture, and all those artisanal goods, are not what Oaxaca is truly known for. Instead, Oaxaca is known for its extraordinary food. Mole is the most popular in Oaxaca. It is a thick sauce that is complex in texture and flavor. There are thirty ingredients used to make mole and the entire process from start to finish takes an entire day. This tasty sauce is often served with meat and rice.
When you are not inhaling a dish covered in mole, you may find yourself indulging in a little egg bread, which is called marquesote. Other foods Oaxaca is known for are their cheese, chocolate, and Cecina.
Oaxaca culture can still be found everywhere in the city. The locals bring this culture to life every single day by keeping all the traditions alive. When a person chooses to visit Oaxaca, a day will not go by where they won't learn something new about Oaxaca history or Oaxacan culture.
This is especially true when you are wandering around looking for souvenirs to take home with you. Each vendor you visit will have a story to tell. All you need to do is listen instead of rushing past. Every item the vendors sell also have a story, but again, you must be ready to listen and learn. 
The state of Oaxaca is also home to what is considered the best surf spot in Mexico, Puerto Escondido. The best time to visit Puerto Escondido is anytime, but check out my post on the weather to find the right time for you. When you go, check out the best beaches in Puerto Escondido for the activities that will suit your needs.
Basically, everyone can learn about Oaxaca history when they are vacationing in the area. All you need to do is be patient and observant, while keeping your eyes and ears open. This way, you can learn everything you can about Oaxacan culture, as well as discover the answer to, "What is Oaxaca known for?".