The Nile is the world's longest river, and you can easily explore the length of it during your next vacation. The best way to experience the gorgeous beauty that surrounds this river is via a cruise. There are multiple Nile River cruises to choose from, which means you can always find one that matches your vacation requirements. As you are planning your cruises on the Nile, you will want to consider the time of year carefully. The summer months are quite hot, while the winter season brings an influx of people. Spring and fall happen to be the best times of the year for all cruises of the Nile. However, only you will know which time of year and cruise options will be best for your personal Nile River cruise.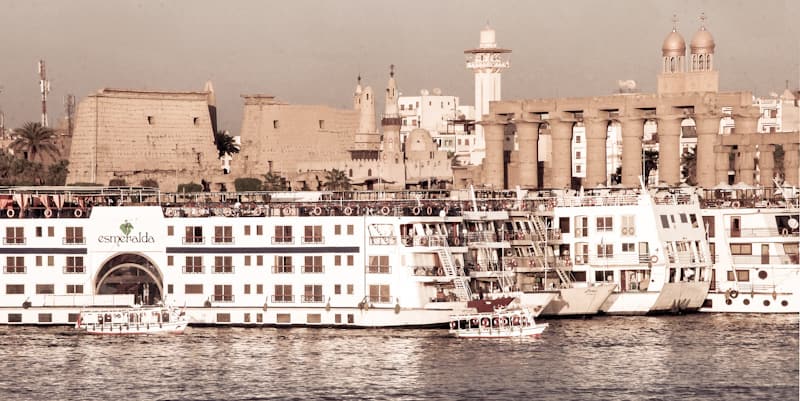 Cruise Boats and Ships Utilized for Cruise of the Nile
Felucca Boats
Felucca boats can be smaller boats or slightly larger like a yacht. The smaller felucca boats are used for day trip cruises on the Nile. You won't get too far down the Nile River during this type of river cruise. But you will get to experience the tranquility and solitude of the river as you enjoy the stunning views of the riverbanks.
The larger felucca boats are used for overnight travel on the Nile. These boats hold between six and eight people. You will see more of the Nile during this cruise and will have the opportunity to make stops at different attractions along the way.
Dahabiya Sailing Boats
While the felucca boats usually only have one sail, the dahabiya sailing boats have two or more. These boats have taken people for cruises on the Nile for centuries. Although, this option grew less popular when the steamboats arrived in the 1870s.
The dahabiya sailing boats used to take three months to sail the entire length of the Nile River. Those days are long gone, but you can still choose to sail on this type of boat if you are considering one of the many cruises of the Nile. The most popular dahabiya sailing boat cruise itineraries are three and four nights long.
The best part about sailing on these boats is you get to step back in time and see how the wealthy people used to travel along the Nile many years ago.
Luxury Cruise Ships
Luxury cruise ships are now the transportation option most travelers choose when exploring the Nile River. These ships offer luxury accommodations, as well as amenities that include swimming pools, spas, entertainment, and plenty of dining options. Travelers can even have their daily excursions included in their cruises on the Nile River tour price.
If you are looking to be pampered during your vacation, a cruise ship will be your best option when cruising the Nile River.
Nile River Cruises Itineraries
All cruise ships have very rigid itineraries when sailing on the Nile River. The sailing time is always minimal since these ships can cover long distances quickly. You should expect to spend most of your days either exploring nearby attractions or relaxing on the ship's deck. Nights are always spent on the ship, whether you are dancing or participating in one of the other entertainment options.
The felucca and dahabiya boats have a little more leniency when it comes to their itineraries for all Nile River Cruises. Due to their size, they can reach the smaller islands, as well as some historical sites larger cruise ships never consider. These boats do sail for longer periods of time though, so you are not getting as much time on land as you would on a cruise ship.
One of the unique features of the felucca boats is they are not allowed to sail after eight o'clock in the evening. Therefore, this boat will arrive at their destination by sunset. The result can be unique entertainment options that other ships do not have. It is not uncommon for these boats to offer their guests nights of stargazing or other entertainment that is special to a certain area.
Nile River Cruises Route
The main Nile River cruises route is between Luxor and Aswan. This route is always taken by cruise ships, and it is possible to either sail between Luxor and Aswan or Aswan and Luxor. Since this is the main route for cruise ships, you will find yourself amongst a lot of other travelers when you are in your port of call each day.
The felucca and dahabiya boats will not go between these two destinations though, because the boats cannot pass through the Esna lock. Therefore, if you choose one of these sailing boats for your cruises on the Nile, you will begin your journey in Aswan. From there, you will sail to Kom Ombo, Edfu, or even Esna since in this direction the Esna lock is avoided. Unfortunately, you will miss the beauty of Luxor unless you find another way to get there.
Attractions You Might See During Nile River Cruises
There is so much history along the Nile River. That history is present at ancient Egyptian temples and tombs, as well as multiple other attractions. A few of the attractions you might have the opportunity to see during Nile River cruises include:
Karnak Temple
Luxor Temple
Temple of Queen Hatshepsut
Temple of Kom Ombo
Abu Simbel Temple
Unfinished Obelisk
Aswan High Dam
Nile River cruises are one of the best vacation options available to travelers of all ages. When you take the time to go on any cruises on Nile, you will have the chance to explore history, see gorgeous views, and relax, as your ship or boat takes you to your next destination. There are many cruises of the Nile to consider, so make sure you are choosing the one that resonates with your vacation needs the most. This way, you enjoy your time away from home, as well as all the beauty the Nile has to offer. 
---
As a traveler, you may also like to see the best credit cards for travel.
Also, while traveling get travel rewards and get paid, too.
---