Hey, if you love to shop and travel, and enjoy entertainment, I bet you enjoy sharing that what you like with your friends and family, too. Well, that what Wildlink is all about, and I'm going to show you how to you can use Wildlink for travel rewards. You love that pair of shoes you just bought and happy with the price you paid, so you want to share that with your world. Wildlink lets you do that AND get paid if your friends take your advice and purchase, too.
Why not get paid to do it? In fact, I even use if for my own purchases. I travel a lot, and I get a commission every time I buy an airline ticket, rent a car or stay at a hotel. This is called affiliate marking, in case you've never heard of it, and combined with travel rewards from the travel partners on Wildlink. It's like getting getting double rewards.
What is Wildlink?
First, Wildlink is a smartphone app AND a Chrome browser extension (computers) that allows you to share affiliate links to the things you want to share, and it's half of your travel reward bounty. For example, say you just bought a pair of tickets from Orbitz. You can share the link by text, email or social media with your comments on how much you love your purchase. If they purchase, you get a commission. There are a lot of partners you can provide links from, and the smartphone app manages and tracks all your links for you.
---


---
Using Wildlink with travel partners to earn cash for your travel
When I purchase my travel (airline, rental cars, and/or hotels) I first go to the Wildlink app on my phone, find and click the travel partners from their list.
Hotels.com is a great example. When I click Hotels.com, the wildlink link even asks me if I want to open the Hotels.com app on my phone. Here's where I double my rewards, because Hotels.com has a buy 10 nights and get one free rewards program. So I get the rewards AND get a commission in my WildLinks account.
Don't stop there, though, other travel partners include CheapOair, National Car Rental, Fox Car Rental, and many, many others. You can also get creative by sharing your experience with a link in social media platforms to get commissions. Additionally, I put it in my blog sites, too.
---
Travel posts you may also like….
Top 10 Things to do in Carlsbad, CA
Top 10 Things to do in Puerto Escondido, Oaxaca, Mexico
---
Wildlinks: Benefits for bloggers
Since you are reading this, then you know that I have a blog. The other way you can make money using Wildlinks is to include advertisements in your blogs with them. See this advertisement for Hotels.com below? That's a Wildlink that I created myself, then I added a nice graphic with the link for my blog. Go ahead, click and buy so I can get a commission. Yeah, it's really that easy.

Wildlink provides reporting on commissions, links created, and link clicks. See the graphics below to see the earnings reports available in the smartphone app. It's also easy to request payment of confirmed earnings once you setup a PayPal account.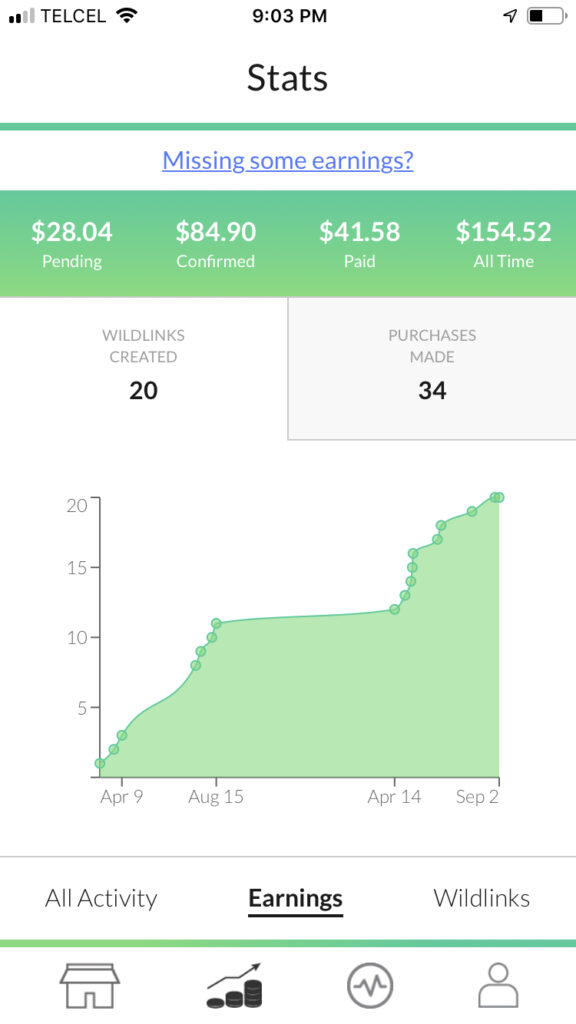 Now you know, so why would you book flights, hotels or rental cars without using your affiliate link to get commission on your own travel? I double my rewards by booking through one of the partners with whom I have a rewards program. It's really easy:
Open the wildlink app on your phone and find Hotels.com.
Tap Hotels.com, for example.
It will takes me to a browser, then it notices I have the app and asks if I want to open the app.
I book my hotel, and Hotels.com has buy 10 nights-get one free.
Boom! I just received double travel rewards. I get commission in Wildlink and record night(s) towards a free stay at Hotels.com.