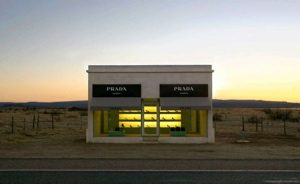 Marfa, Texas isn't the sort of town you would expect to become an interesting tourist destination. After all, it's deep in the middle of nowhere, and it's a fairly small community. However, Marfa has multiple unusual attractions! Lovers of the paranormal and the bizarre make the long drive to this artsy town to witness some of the strangest sights in Texas. If you're looking for something unusual to do in the American Southwest, look no further! Marfa is one of the oddest places you'll ever visit.
Eat
Marfa is a weird place, so it only makes sense to expect weird dining options. One interesting choice is Food Shark, a lunchtime food truck that offers seating in an old bus. Like many odd eateries, this place makes phenomenal food! The street-style Mediterranean dishes are simple but fresh and delicious.
You can't miss the chance to visit Planet Marfa when you visit. Not only are the nachos fantastic, but the atmosphere is Instagram-worthy. Dine in a bus and drink in the tepee, then grab a book off the shelf or challenge someone to a game of ping-pong.
Although Marfa has its fair share of casual eats, you can definitely get a nice dinner in town. Restaurant Cochineal is one of the most popular places to go. Here, you can expect fine dining, succulent desserts, and good drinks in a distinctly Texan atmosphere.
Stay
Hotel St. George isn't a budget hotel, but it's artsy, classy, and distinctly Marfa. Get that artistic, Southwestern urban decay feel plus all the amenities here. If that's not quite your style, you may like El Cosmico, a place for adventurers to stay and gaze over the empty plains of Texas. You can pick your choice of accommodations here: a tepee, a yurt, a tent, a trailer, or a room in the Bright Building. If you just want a normal, mid-priced hotel, check into Hotel Paisano. This historic hotel has individually-decorated suites, many of which are named after famous figures.
Do
Most people go to Marfa to see the famed Marfa Lights. These mysterious flickers and orbs of light appear on the horizon on clear nights, jumping, pulsing, and splitting in half. Some people claim that they are just car lights shining in the vast desert plains, but believers insist that they're paranormal or alien light flickering just out of reach.
The Prada Marfa is the other Marfa attraction that has intrigued the internet in recent years. This tiny museum/art installation is located near Marfa on a lonely stretch of highway. You can stop and take a peek through the windows at the expensive wares within.
Since Marfa has become a popular hometown for the eccentric and the artsy, you must immerse yourself in this culture during your visit. The Chinati Foundation is a great place to do it! Visit this huge museum's 15 buildings to take a look at the odd artwork on display.
Texas has more than its share of strange little art towns, but Marfa is perhaps the most interesting of them all. If you want to experience Southwestern culture at is strangest, be sure to make a trip here! You'll be sure to get interesting travel photos and have plenty of stories to tell.