Are you starting to think ahead a little and considering your options for the upcoming holiday season? There is always so much to do during this time of the year. And some of the tasks really need to be completed a couple months in advance. Unless of course, you want to rush around at the last minute. One of those often-forgotten tasks is a Christmas card photo. You must have those taken at least a few weeks before Christmas. Doing so will give you time to have the Christmas cards created. And mailed out. But where to go for the photo shoot? That is the biggest question. We have the solution with our all-time picks for the most beautiful travel destinations for Christmas photos.
Our All Time Picks for the Most Beautiful Travel Destinations for a Christmas Card Photo
Aspen, Colorado
Winter arrives early in Colorado. So, there is a very good chance you can have a snowy background in your Christmas card photo. Your family can head out for a day of skiing or snowboarding. Pictures can be taken at the top of the slopes or down at the bottom. More pictures are possible, as you relax around the fireplace. And if you want picture perfect photos, you can always pretend to be out skiing. Simply head out for some thrills once the photo shoot is over.
Honolulu, Oahu
On the Hawaiian Island of Oahu, you will discover gorgeous views and stunning landscape. Both those things are perfect additions to all family photo Christmas cards. Visiting Honolulu during the month of September or October will have you avoiding the crowds that descend on the island during the holidays. Plus, you can capture some beautiful moments with your family for your Christmas card photo. A couple places to start your photo journey include Waikiki Beach, Diamond Head, and Lanai Lookout.
Venice, Italy
Your Christmas card photo will be the envy of all your friends when you choose to have it taken over in Venice. The canals and architecturally detailed buildings are both excellent options for Christmas photo backgrounds. The best pictures will be captured either during the first or last hour of sunlight each day. Keep that in mind when planning your photography sessions. Yes, you may need to be up really early one day. But the results will be magical!
London, England
The list of landmarks in London worthy of Christmas photos is extensive. Depending on your likes and dislikes, you may find your family has more options than you have time for. Consider a few pictures within the Princess Diana Memorial Garden. It is also called the White Garden. The best time to go for photos is when all the flowers are in bloom. Other places to consider include Covent Garden, Hyde Park, and even outside Harrods. Shoppers will really love that last one!
Bruges, Belgium
Vacationing in Bruges, Belgium towards the end of November will give you a glimpse into the holidays in this destination. The best part is you can have your Christmas card photos taken with the Christmas Markets and other Christmas décor in the background. And still have them ready to mail out and be received in time for the holidays. If you arrive too early for the festivities, you can always wander around the cobblestone streets looking for unique backgrounds for your pictures.
Edinburgh, Scotland
Edinburgh is another destination that starts the celebrations approximately six weeks before Christmas. If you time your travels just right, you can get giant Advent calendars, holiday lights, and Christmas Markets in your photos. Ice skating in St. Andrew Square, wandering through the Christmas tree maze, and visiting Santa's Grotto at the West Princes Street Gardens are other fabulous options. Just make sure you choose your perfect Christmas photo early, so you have enough time to send them out to everyone!
Munich, Germany
The Christmas card photo opportunities are practically endless when you travel to Munich, Germany. The Bavarian Alps create the perfect backdrop throughout the city. Marienplatz Square is one of the best places to capture a few memories of your vacation in Munich. However, pictures in front of Neuschwanstein Castle may turn out to be your all-time favorite.
The Maldives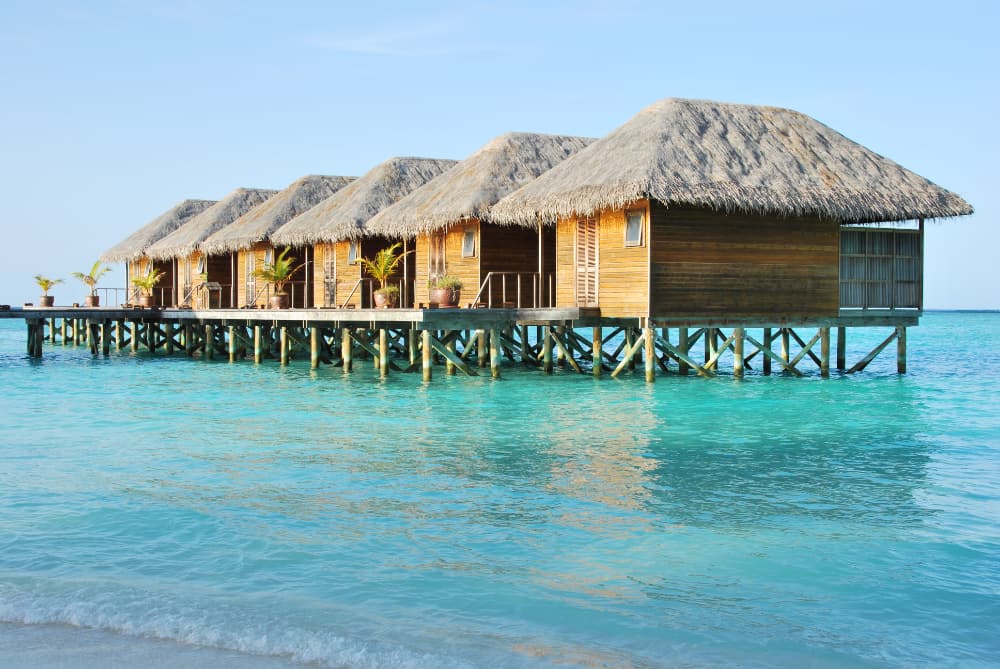 There isn't a rule that states you need snow and Christmas trees in your holiday card photo every year. In fact, there is nothing wrong with showing off a tropical vacation in The Maldives. The soft white sandy beaches with the water just past the shoreline can create a spectacular backdrop for family photos. Get a few palm trees in there, along with the bright blue skies, and you can show off your own little piece of paradise.
Rio de Janeiro, Brazil
The beaches in Rio de Janeiro can be just as stunning as the ones in The Maldives, albeit a little more crowded. You can't go wrong with a photo session in the sand on Copacabana Beach. Tijuca National Park and Jardim Botânico are two natural settings filled with lush landscapes. Capturing the rainforest or gardens in your Christmas card photo may be exactly what you want this year. Another possibility is getting one of the Seven Wonders of the World, Christ the Redeemer, in the background.
Asheville, North Carolina
Asheville may be getting bigger, but it still has that small-town traditional feel. Those qualities make it the perfect travel destination for a Christmas card photo. Once you have had your photo session in the downtown area, head out to the Blue Ridge Parkway for a few more pictures. The River Arts District, which is on the water, and the French Broad River offer unique backgrounds too.
These are our all-time favorite top picks for the most beautiful travel destinations for a Christmas card photo. Choosing one of them will ensure your Christmas cards are a hit with family and friends this year. So, which one are you going to choose?