Amsterdam: The most student friendly city of the Netherlands.
Are you a student and traveling to Amsterdam soon? We totally understand why. Amsterdam is a very vibrant and student friendly city. There is so much to see, do and experience for students. From cool bars to hip and trendy clubs. But also, if you are in to visiting musea's and taking city walks amongst the most beautiful canal houses, this is the place to be. While visiting Amsterdam you obviously need a place to crash after a long day or night in the city, no worries, we got you!
We made a list of the best Amsterdam hotels for students, especially for you!
All the hotels mentioned down below can be booked for long stays as well, perfect if you are a student who will study abroad in Amsterdam for a semester.
1. The Student Hotel Amsterdam City – from €70, – a night
The name says it all, this hotel is from and for students. It is a very trendy boutique hotel that is just a 20-minute walk from the city center. If you don't feel like walking you can always take the metro or tram from stop Wibautstraat to the city center, this will take you approx. 5 minutes. The hotel offers several room types. You have rooms that are for single users but also twin and deluxe rooms. Every room has a flatscreen tv, cable included, and all guests can use the in-house gym for free. What is also cool about the student hotel is that it has a lot of fun common areas like a library, co-working spaces and a hangout area.
The Student Hotel also organizes a lot of events for their guests. From club nights to bar hopping experiences or even a boat tour through the infamous Amsterdam canal.
2. The Generator Amsterdam – Dorm bed from €24, – a night, private room from €75, – a night
If you like to travel in Europe or even America, the chances are big that you have heard of the Generator, or as us insiders say: 'The Gen'. The Gen is a real staple in the Hotel and Hostel world. It is very famous for offering a luxury boutique experience for a very affordable price. And that is exactly what the Gen Amsterdam does as well. It is a designer hotel with hostel options, meaning that there are rooms with ensuite facilities like a bathroom but also rooms with shared facilities. This makes it perfect for students because there will be a sleeping arrangement for all budgets. If you are traveling on a tight budget, you can already spend the night here for a wapping €24, – or USD 30, – a night. You can stay in a mixed dorm or if you are female, you can also opt for an all-female dorm. Each room, including the dorms, have AC. There also are common areas and meeting spaces like the lounge bar where cool in-house events are organized so you can meet people like bingo nights, poetry nights and drinking game festivities.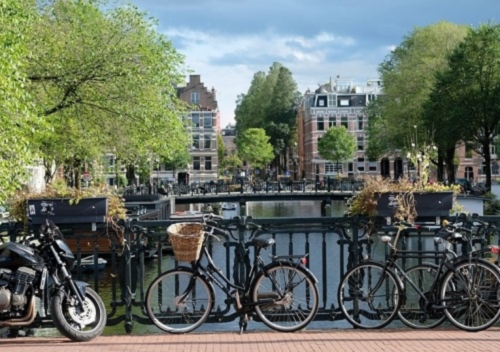 3. CitizenM Amsterdam South – From €78, – a night
With the CitizenM Amsterdam South, you know exactly what you will get if you are familiar with the CitizenM brand. All rooms are exactly the same. The rooms are quite cosy but do all come with an ensuite bathroom. The room is totally operated by the room iPad or as they call it the 'roompad'. You can adjust your lighting to colourful mood lights, you can enjoy the complimentary WiFi or watch your fave Netflix shows on your own flat-screen TV. The hotel also has some common spaces like a designer lounge or meeting rooms that you can use freely while staying in the hotel. There are also several living rooms where you can hang out and totally feel at home. The hotel is located just outside the city center, a short walk from the RAI Conference Center or the Amsterdam Zuid train station. If you want to go to the city center you can take a bus or tram from the 'Irene straat' which is about 100 meters from the hotel. This will take you to the city center in about 25 minutes.
4. Qbic Amsterdam – From €59, – a night
The Qbic hotel is located near the World Trade Center, just about a 10-minute walk from the Rai Conference Center. It is located just outside the city center, but you can reach the city center by metro or tram and it will take you about 12 minutes.
The Qbic hotel offers you affordable luxury. You can stay in a private room with an ensuite bathroom for only €59, – a night, which for Amsterdam is a very cheap option. The hotel is known for its cleanliness and Auping beds. All rooms also come with a flat screen tv including cable. A cool feature of the rooms is that every room has its own adjustable colourful LED lighting options so that you can set the mood accordingly.
If you want to know the best sites to book these hotels, check out the best booking sites.
You may also like our post on the best luxury hotels and resorts in Carlsbad California.