If you visit Virginia Beach, you should check out Capt. Jack's Pirate Ship Adventure . Its one of the fun stuff to do in VB with your family, specially if you have little kids, they will surely never forget this exciting experience, of being aboard on the Lost Pearl.
Above is the Lost Pearl, sailing on the blue seas of Virginia Beach, caught by my camera from our hotel room on one early morning.  Its an hour trip of fun, so its worth every penny you pay for! Not to mention the beautiful view of Virginia Beach from the Ocean, and the dolphin watching are a must see!
It cost $26 for adult, Children (ages 3-15) is  $22, and 2 below is FREE.
My Mateys had so much fun, they wanted to ride it again, but sad to say, we booked the last trip, and it was already dark when we got off the ship.
And Below are my Mateys, ready to look for treasures that were stolen by Black Beared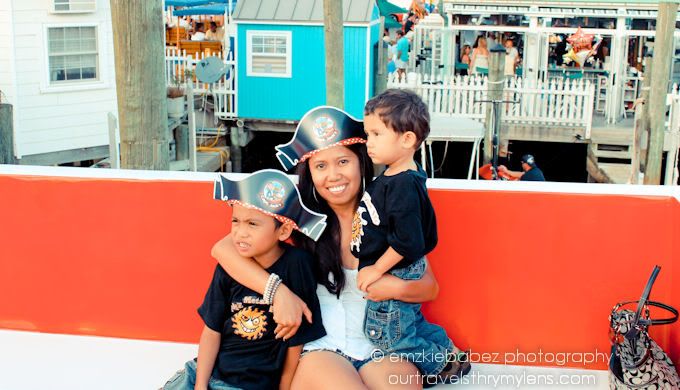 Posing before we sail.
First thing to do is Face Painting for Pirates Wannabe. My kuya was saying Arrrr….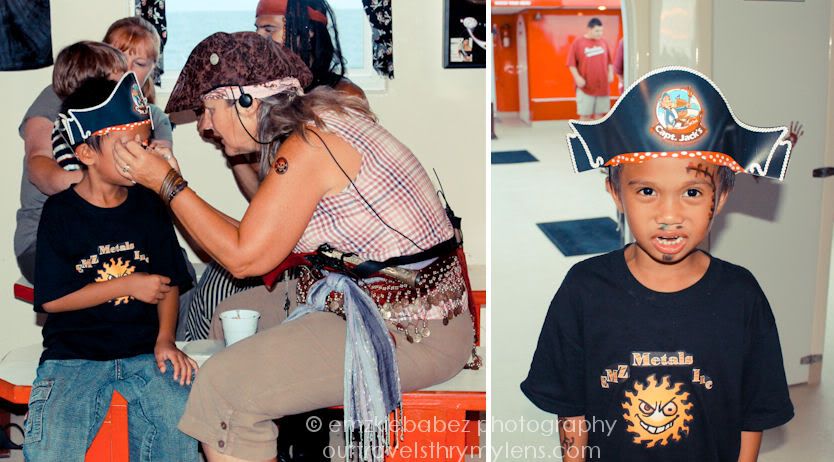 Photos below shows Kids gathered on the deck to listen to the story about the Pirate Black Beared, who stole the treasures. So its not just about sailing the Lost Pearl, but the kids get the chance to act like real Pirates. The crew of the Lost Pearl have a special show where the kids can participate and have so much fun, while the mommies and daddies listen to their fascinating stories and drama.
 They also have other fun activities like searching for the Pirate Black Beard, and shoot him with the water canon, as shown below. The kids also dance the limbo after defeating Black beard and retrieving the Treasures. Each kid had the chance to pick their treasures in the treasure box.
And here we are.. saying.. ARRrrrrr